Zowell can perform refitting of electric pallet jack trucks according to the practical requirements of the customer. The following is a case where an electric pallet jack truck was refit to be more suitable for specific applications.
The Zowell electric pallet jack truck is an explosion-proof pallet truck that delivers reliable performance. The design and structure of the truck satisfy all of the safety and performance requirements across many industries. The machine case is equipped with a ground copper woven bag and cable entry to optimize safety. The stainless steel fork ensures the durability and operating stability of the pallet jack truck. The truck is specially designed to be fire and explosion proof.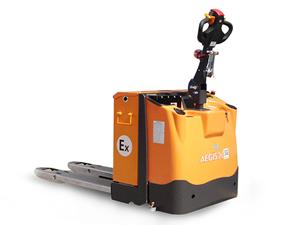 Electric Explosion-proof Pallet Truck
Features
1. Gas perniciousness: 3G; gas group: IIB;
2. Anti-hazard classification: T3 explosion proof battery;
3. Pallet fork: stainless steel;
4. Explosion proof control box and water pump motor;
5. Ground copper woven bag;
6. Copper cable entry.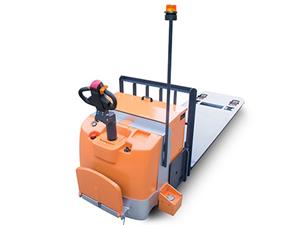 Electric platform truck
The electric platform truck is a heavy forklift truck with reliable performance. It can realize rapid and safe horizontal and vertical transporting. Different from the fixed platform truck, this truck features a lifting function and is equipped with EPS to ensure smooth direction changes. The CURTIS 840 multi-function meter displays the charging level of the battery, operating time, error code, driving speed, and turning angle. The electric platform truck can be used in various working conditions and applications. The length and width of the platform can be customized according to your requirements.
Parameters
Features
Drive mode
Motor drive
Operation type
Standing or walking
Loading capacity Q (kg)
7000
Load center distance C (mm)
900
Wheel base Y (mm)
2163
Weight
Dead weight (without battery) (kg)
1500
Truck wheel
Tyre
PU
Driving wheel specification (mm)
Φ248 × 75
Bogie wheel specification (mm)
Φ160 × 50
Balance wheel specification (mm)
Φ150 × 48
Front gauge (mm)
670
Track rear (mm)
687
Basic specification
Min/ max height of the operating handle at the drive position h1 (mm)
1426/1150
Lifting height h3 (mm)
310
Min height of the platform h5 (mm)
160
Total length L1 (mm)
2864
Distance from front face of the platform to the front L2 (mm)
1357
Total width b1 (mm)
1000
Platform dimension length/width (mm)
1800/990
Min ground clearance M (mm)
37
Performance
Moving speed (full load/no-load) (km/h)
2/2.5
Lifting speed (full load/no-load) (mm/s)
28/40
Descending speed (full load/no-load) (mm/s)
45/40
Max gradeability (full load/no-load) (%)
2.5/8
Braking mode
Electromagnetic brake
Motor
Power of the drive motor (kW)
3
Lifting motor power (kW)
3
Storage battery voltage/capacity (V/Ah)
24/400
Weight of storage battery (kg)
300
Other
Control mode
Field-effect tube control
Whole truck noise Db (A)
< 70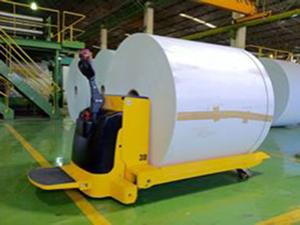 Electric paper roll pallet truck
The electric paper roll pallet truck was designed by Zowell for transporting rolled goods. The design features a diamond-shaped fork and low slope formed by two flat steel beams that are able to fit perfectly inside the tube materials. You can also choose the most suitable fork width according to your transporting requirements. This truck is suitable for the transporting of paper rolls, carpet, textile rolls, cables, wood, steel coils, tires, and other cylindrical materials.