Basic information
Type: FE15/20/25/30/35
Load: 1500/2000/2500/3000/3500 kg
Max gradeability: 15%
Radius of turning circle: 2315mm
HS code: 8427109000
Certificate: CE/SGS/ISO9001
Equipment detail of electric 4 wheel counterbalance forklift trucks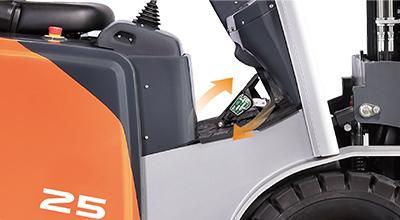 1. Pedal distributing of best angle
The electric 4 wheel counterbalance forklift truck is equipped with a surrounding type seat which is an ergonomic design. It allows for waist adjustment and helps the operator maintain proper driving posture.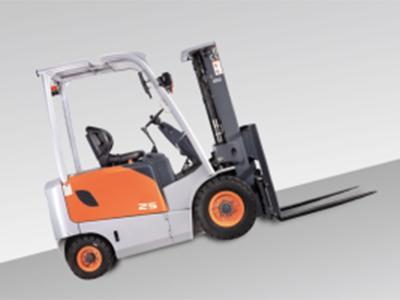 2. Larger gradeability
The gradeability can be up to 15%. The climbing speed can be up to 4km/h even when fully loaded.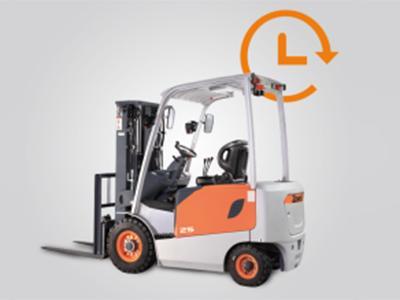 3. Cruising ability
The durable battery and improved performance and efficiency allocation can greatly increase the cruising ability of the forklift truck which means that the working period can be increased by 10%.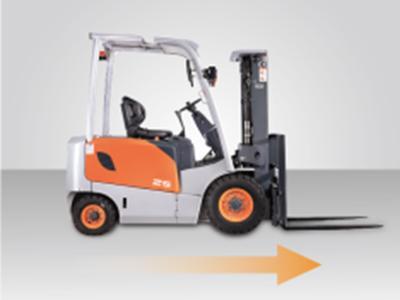 4. Faster moving speed
Fully loaded speed can be up to 14km/h.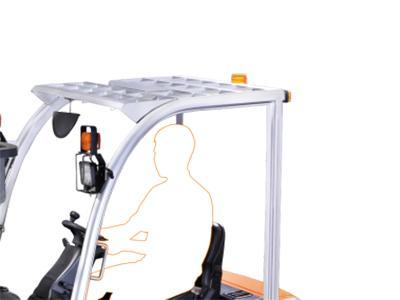 5. High intensity overhead guard
The overhead guard is made of an irregular polygonal extruded material which delivers good compressive resistance and impact resistance in order to ensure the intensity of the overhead guard. Meanwhile, it can protect the driver from being hurt by falling materials.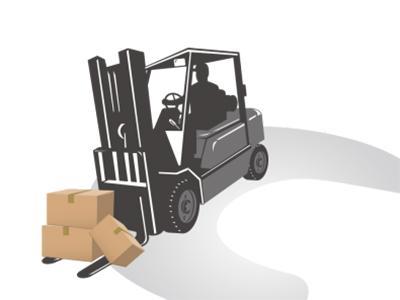 6. High position steering node
The lateral moving is highly stable to reduce rollover.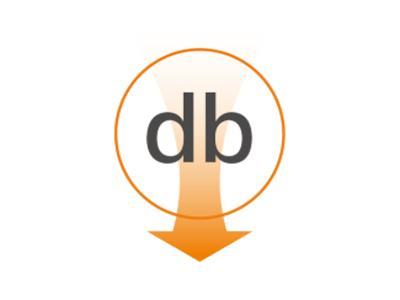 7. Superior noise reduction technology
The reasonable distribution and design of the noise reduction technology effectively quiets the forklift.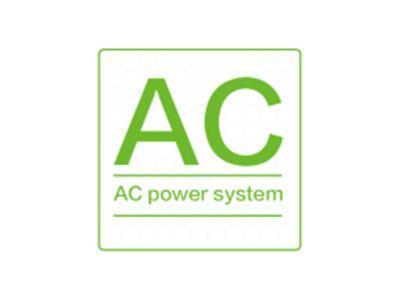 8. Fully AC system
This truck has superior performance control. The motor is always maintenance free.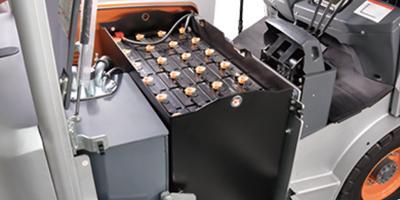 9. The battery can be loaded and unloaded at the side so that the time of changing battery can be effectively reduced and the working efficiency can be improved, especially for the working condition with higher working intensity. There are optional batteries such as FAAM and GS.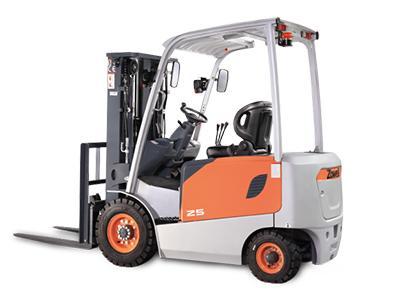 10. 70% of the truck adopts molded components which can ensure the reliability of the whole truck.
Structural Drawings
Parameters
Product type
FE15
FE18
FE20
FE25
FE30
FE35
Driving mode
Electric
Electric
Electric
Electric
Electric
Electric
Rated load (kg)
1500
1800
2000
2500
3000
3500
Load center (mm)
500
500
500
500
500
500
Dead load (kg)
3280
3400
4170
4410
5100
5350
Wheel
Tyre
Pneumatic tyre
Pneumatic tyre
Pneumatic tyre
Pneumatic tyre
Pneumatic tyre
Front wheel: Pneumatic tyre
Wheel number (front/back)
2 driving wheel/2
2 driving wheel/2
2 driving wheel/2
2 driving wheel/2
2 driving wheel/2
2 driving wheel/2
Front tyre
6.50-10-10PR
6.50-10-10PR
7.00-12-12PR
7.00-12-12PR
28×9-15-12PR
28×9-15-12PR
Back tyre
5.00-8-10PR
5.00-8-10PR
18×7-8-14PR
18×7-8-14PR
18×7-8-14PR
18×7-8(Solid Tyre)
Front gauge (mm)
890
890
960
960
1000
1000
Track rear (mm)
920
920
950
950
980
980
Wheel base (mm)
1420
1420
1510
1510
1700
1700
Dimension
Lifting height (mm)
3000
3000
3000
3000
3000
3000
Fork dimension (mm) (L×W×T) (mm)
920×120×35
920×120×35
1070×120×40
1070×120×40
1070×125×45
1070×125×50
Gantry tilting angle (front/back) (°)
43263
43263
43263
43263
43263
43263
Total height (with min gantry height) (mm)
1995
1995
2070
2070
2115
2150
Unsupported height (mm)
105
105
125
125
125
125
Height with max gantry height (with load backrest) (mm)
3940
3940
4070
4070
4175
4175
Load backrest height (mm)
910
910
1045
1045
1140
1140
Outer width of fork (mm)
240-970
240-970
240-1040
240-1040
250-1100
250-1100
Total length (without/with fork) (mm)
2190/3110
2190/3110
2360/3430
2360/3430
2610/3680
2615/3685
Total width (mm)
1090
1090
1160
1160
1230
1230
Height of overhead guard (mm)
2195
2195
2240
2240
2250
2250
Distance between seat to the overhead guard (mm)
1020
1020
1020
1020
1020
1020
Front overhang (mm)
420
420
465
465
480
485
Rear overhang (mm)
350
350
385
385
430
430
Min turning radius (mm)
2010
2010
2075
2075
2350
2350
Ground clearance (mm)
110
110
110
110
140
140
Right angle stacking channel width, pallet 1000x1200 (1000 along the side of the fork) (mm)
2050
2050
2250
2250
2425
2425
Right angle stacking channel width, pallet 1000x1200 (1200 along the side of the fork) (mm)
3600
3600
3740
3740
4070
4070
Performance
Moving speed full load/no load (km/h)
13/14
13/14
13/14
13/14
13/14
13/14
Lifting speed full load/no load (mm/s)
320/380
300/380
300/380
270/380
300/380
280/360
Descending speed full load/no load (mm/s)
≤600/≥300
≤600/≥300
≤600/≥300
≤600/≥300
≤600/≥300
≤600/≥300
Max gradeability full load/no load (%)
15
15
15
15
15
15
Electric system
Storage battery voltage/capacity (V/Ah)
48/400
48/450
48/560
48/630
80/500
80/550
Battery case dimension (mm)
967×393×780
967×393×780
980×515×810
980×515×810
1015×690×815
1015×690×815
Motor power
Driving motor (kw)
8
8
11
11
15
15
Lifting motor (kw)
8.6
8.6
8.6
8.6
12
12
Controller
CURTIS
CURTIS
CURTIS
Driving mode
AC
AC
AC
Other
Working pressure (hydraulic system)
14.5
17.5
17.5
Index
electric forklift, indoor forklift, warehouse powered lift truck, maneuverable forklift, pallet lift