Basic information
Type: XT60
Rated load:6000 kg
Operating mode: sitting type operation
HS code: 8709111000
Certificate: CE/SGS/ISO9001
Detail features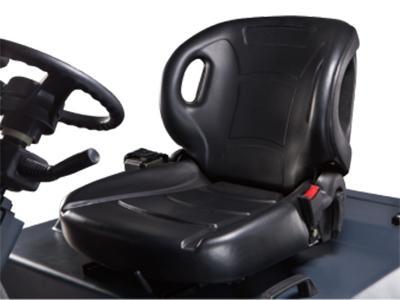 1. Wide and comfortable seat
This seat is designed to relieve fatigue caused by long periods of operation and it also improves overall driving comfort.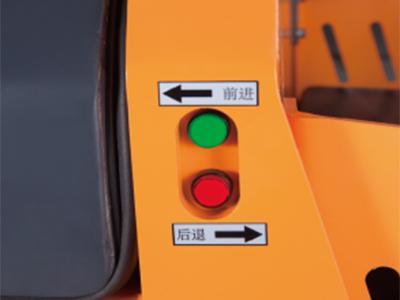 2. Short distance micro motion
Because the controller has a direct control function of micro motion, the driver can realize slow moving forward or backward by touching and holding inching switch without stepping on an accelerator. So the docking of tuggers can be easy and the working efficiency of the tugger can be improved.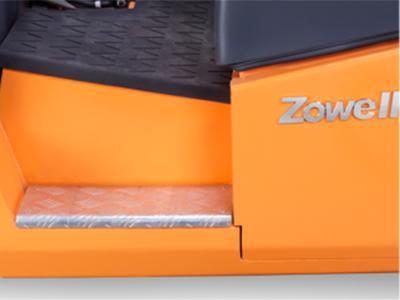 3. Boarding pedal
The low boarding pedal can realize easy boarding of operators. It also has anti-slipping function.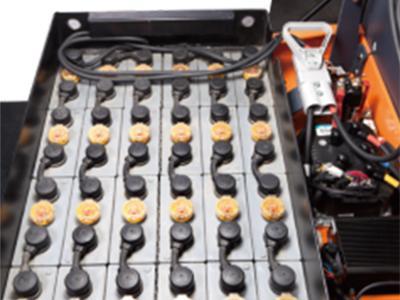 4. Side loading and unloading of storage battery
Side loading and unloading of storage battery can effectively reduce the changing time of batteries so that the working efficiency can be improved. This is suitable for working conditions which features high working intensity. There are optional batteries such as FAMM, GS, HOPPECKE, Trojan.
Structural Drawings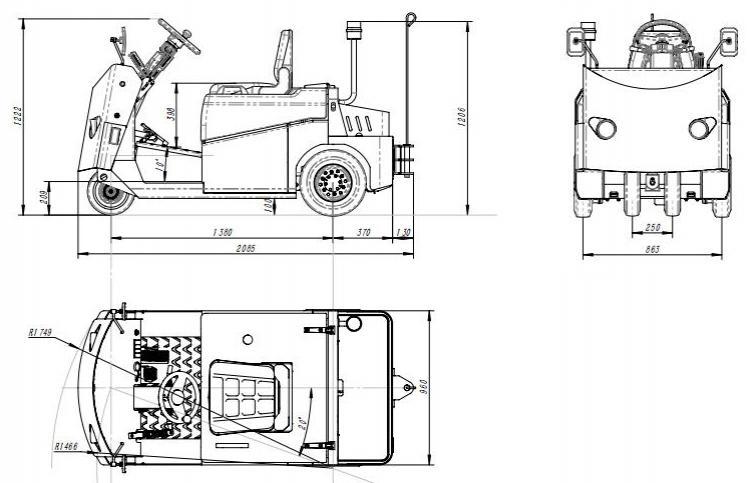 Parameters
Product type
XT60
Driving mode
Electric
Operating mode
Sitting
Wheel
Front/back
Pneumatic tyre
Wheel number
Front/back
2/2x
Rated traction force (traction ability)
Rated value of 60 min
N(kgf)
1470(155)
Traction weight
Rated value of 60 min (kg)
6000
Moving speed (km/h)
No load
17
Full load
7
Max gradeability
No load (%)
30
Total length
With hook (mm)
2000
Without hook (mm)
1870
Front overhang (mm)
150
Rear overhang (mm)
370
Total width (mm)
960
Total height (mm)
1220
Turning radius (mm)
1845
Hook length (mm)
136
Hook height (mm)
290/340/390
Wheel base (mm)
1350
Wheel track
Front wheel (mm)
260
Back wheel (mm)
860
Ground clearance (mm)
100
Pedal height (mm)
340
Total weight (kg)
With storage battery
1150
Without storage battery
610
Weight distribution (with standard storage battery) (kg)
Front wheel
370
Back wheel
780
Wheel dimension
Front wheel
3.50-5-6PR
Back wheel
4.00-8-6PR
Main brake
Hydraulic
Hand brake
Manual
Storage battery voltage/capacity (V/Ah)
48/320
Storage battery weight (kg)
540
Drive motor (kW)
AC 4.0
Control mode
Field effect tube control
Index
electric towing tractor, power tugger, load puller, industrial tugger, electric pusher