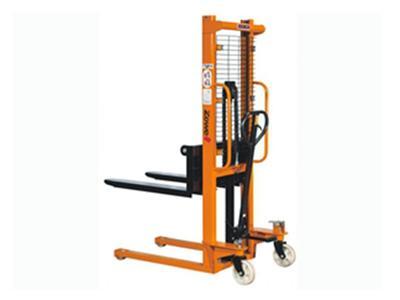 Introduction
While using the hand hydraulic stacker, the bearing fork is pushed into holes on the pallet. Lifting and descending of the pallet loaded with goods is then carried out using a manual hydraulic system, with transportation completed using manual pulling. The hand hydraulic stacker is a common piece of logistics equipment, used for the transportation, loading, unloading and stacking of goods. This stacker is made of professional material with an appearance that is designed to be simple and compact. It is a flexible and durable solution for movement of goods, and effectively reduces labor intensity, while improving transportation efficiency. It is the best modern assistant for product transporting, loading and unloading.
Detail features
The hand hydraulic stacker features a small turning radius and flexible operation so that it works well in narrow spaces.
The stacker is equipped with a leak free hydraulic oil cylinder. The sealing components are imported from Japan, and can effectively prevent external impurities from getting into the cylinder. This ensures a higher quality and reliable performance.
The mast uses a high intensity structure that is durable and deformation resistant, thus improving the lifting stability and safety.
Customers can choose from two configurations: routine handle pressure lifting and dual pressure lifting of the handle and pedal. Routine handle pressuring is a pollution free, manual pressuring method through which operation is simple and easy. Dual pressuring lifting of the handle and pedal is not only easy and saves labor, but it also improves the working efficiency.
This stacker has two optional configurations: fixed fork and movable fork. This ensures a complete range of functions.
Parameters
| | | | | |
| --- | --- | --- | --- | --- |
| Product type | HS1016 | HS1516 | HS1020 | HS1025 |
| Driving mode | Manual | Manual | Manual | Manual |
| Operating mode | Walking | Walking | Walking | Walking |
| Rated load (Kg) | 1000 | 1500 | 1000 | 1000 |
| Lifting height (mm) | 1600 | 1600 | 2000 | 2500 |
| Min fork height (mm) | 85 | 85 | 85 | 85 |
| Fork length (mm) | 1000 | 1000 | 1100 | 1100 |
| Adjustable outer width of the fork (mm) | 330-740/550 | 330-740/550 | 330-740/550 | 330-740/550 |
| Front wheel (mm) | Φ74×70 | Φ74 × 70 | Φ74×70 | Φ74×70 |
| Back wheel (mm) | Φ180×50 | Φ180×50 | Φ180×50 | Φ180×50 |
| Tyre | Nylon | Nylon | PU | PU |
| Net weight (Kg) | 224 | 240 | 280 | 310 |
| Package dimension (mm) | 1400×780×1850 | 1350×800×1870 | 1650×800×1900 | 1650×800×1900 |
Index
manual stacker, manual lift, warehouse lift