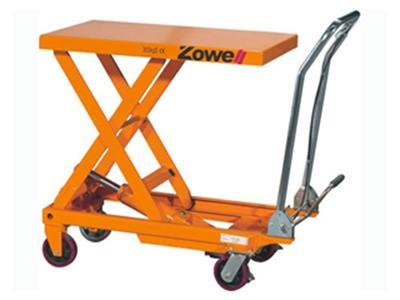 Introduction
The hydraulic lift table cart is a small lifting machine that is primarily used for the lifting of products within a small height range. It carries out product picking and placing, meaning it offers solutions for small area goods transportation in manufacturing industries, third party logistics industries and retail industries. By using this lift table cart, the storage efficiency and material flow rate are both improved, and transportation costs are reduced, making this a common piece of equipment for the transportation and storage of small objects.
The largest performance features of the hydraulic lift table cart include rapid and convenient transportation, loading and unloading of products. There is no need for operators to lift, bow, or reach out, and the working platform can only be lifted using the hydraulic oil cylinder, which is pedal controlled. This saves labor costs and improves working efficiency, as well as improves the performance of a manual hydraulic lifting platform, as well as increased economic benefits.
Detail features
The hydraulic lift cart is made of welded steel, giving it an excellent rigidity and high intensity.
It is an ideal material transportation platform for assembly lines, because it is convenient and safe.
The pedal type hydraulic system can achieve platform lifting to the ideal height.
The descending of the platform can be precisely controlled using a control button on the joy stick, or by lifting the lever. Operation is simple.
This lift cable cart is equipped with an overload valve which can effectively protect the operators and material.
Parameters
Product type
HTF30
HTF50
HTF75
Driving mode
Manual
Manual
Manual
Operating mode
Walking
Walking
Walking
Rated load (Kg)
300
500
750
Min working height of the platform (mm)
270/380
280/390
410
Max working height of the platform (mm)
900
900
1000
Platform dimension (mm)
820×500×50
820×500×55
1000×512×55
Total length (mm)
1070
1070
1350
Handle length (from the ground)(mm)
970
970
970
Net weight (Kg)
65
75
107
Packaging dimension (mm)
900×520×270
900×520×380
900×520×290
900×520×400
1160×600×420
20 feet package (units)
168/140
168/140
90
Index
scissor lift table, manual lift, warehouse lift