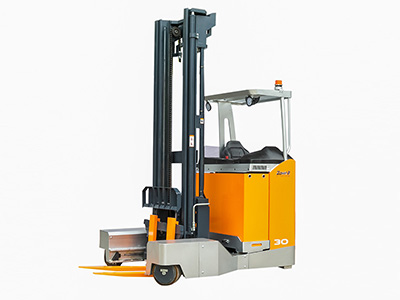 This multi-directional reach truck features a variable fork. It does not require right-angle turns, even when working in narrow aisles. This particular forklift offers an outstanding maneuverability and efficiency.
Basic information
Max. load Capacity: 3, 000 kg
Max. Lifting Capacity: 10, 000 mm
Operator: Sit-Down
6 Driving modes can switch freely.
Features
Safety: This forklift is equipped with an all-wheel steering display system and all wheel braking system, as well as a real-time monitoring of the driving wheel position to ensure a stable, reliable performance.
Stability: Ride-on three pivots and equipped with an imported controller, it features an excellent control performance and stability.
Efficient: This forklift enters the lane as long as 10,000mm for material pickup. Required passage lengths are reduced by 1/3 compared to ordinary forward moving forklifts, allowing for a doubling of material storage in the warehouse.
Energy saving: With an all-wheel electronic steering, this forklift saves energy in an energy reduction, thus improving the vehicle service life with no risk of oil leaks.
Ergonomics: It features a finger switch / integrated handle control, HMI human-computer interaction interface, and a reasonable functional area division to reduce driver fatigue intensity.
Structural Drawings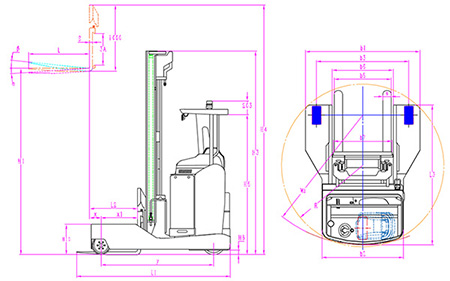 Note:
The electric 3 wheel counterbalance forklift truck adopts a 3-point supporting system. The turning radius is 1690mm. The forklift can realize smooth turning to navigate narrow warehouse layouts.
When the wide cargo fork frame + quad fork structure is selected, the corresponding load curve is reduced 250 kg based on standard vehicles.
When the adjustable fork structure is selected, the corresponding load curve is reduced 400 kg based on a standard vehicle.
When adjusting the fork, the adjustment range can be customized according to the actual length of the cargo :
a. For cargo with a length of 6-8 meters, the recommended adjustment range is 430-2500mm.
b. For cargo longer than 8 meters, customize the long material handling solution according to the specific conditions of the customer site.
c. For cargo with a length of 3-6 meters, the recommended adjustment range is 430-2100mm.
d. For rigid cargo with a length of fewer than 3 meters, select the standard fork rack.
Parameters
Product type
RSEW125
RSEW125S
RSEW130
RSEW130S

Driving mode
Electric
Electric
Electric
Electric
Driving type
half-closing sitting
half-closing sitting
half-closing sitting
half-closing sitting
Rated load Q (kg)
2500
2500
3000
3000
Load center C (mm)
600
600
500
500
Rear overhang X1 (mm)
549
498
549
498
Front Overhang X(mm)
175
175
175
175
Wheel base Y (mm)
1700
1700
1700
1700
Weight
Truck weight(Include battery) kg
4400
4400
4500
4500
Battery weight(±5%) kg
920
920
1020
1020
Wheel
Tyres
PU tyre
PU tyre
PU tyre
PU tyre
Front-load wheels(Diameter ×Width)Single wheel (mm)
φ280×135
φ280×135
φ280×135
φ280×135
Rear driving wheel(Diameter ×width) Single wheel (mm)
φ343×140
φ343×140
φ343×140
φ343×140
Wheel quantity Drive wheel /Load wheel (pcs)
1X/2
1X/2
1X/2
1X/2
Front wheels distance b3(mm)
1392
1392
1392
1392
Basic dimension
Lifting height (mm)
3000-4500
4500-10000
3000-4500
4500-10000
Fork tilting front/rear α/β(°)
2/4
2/4
2/4
2/4
Lifting height h1(mm)
See attachment
See attachment
See attachment
See attachment
Overhead guard height h5(mm)
2190
2190
2190
2190
Seat height/Operation platform height
(mm)
1100/1350
1100/1350
1100/1350
1100/1350
Min groundcleance h8(mm)
40
40
40
40
Balance leg height h10(mm)
457
457
457
457
Overall length(include fork)l1(mm)
2470
2470
2320
2320
Overall width b1(mm)
1728
1728
1728
1728
Fork size l/e/s(mm)
1070/100/45
1070/100/45
920/125/45
920/125/45
Rear Chassis width b2(mm)
1230
1230
1230
1230
Fork width b5(mm)
355-880
355-880
380-880
380-880
Inside with of legs b6(mm)
920
920
920
920
Min turning radidus
1952
1952
1952
1952
Min Aisle width(Go straight) (mm)
2075
2075
2075
2075
Min aisle width when side moving Pallet 3000×1000×1000 (mm)
2600
2600
2600
2600
Performance
Driving speed Loaded/unloaded (km/h)
10/11
10/11
10/11
10/11
Lifting speed Loaded/Unloaded (mm/s)
250/300
250/300
250/300
250/300
Lowering speed Loaded/unloaded (mm/s)
300/300
300/300
300/300
300/300
Gradeability Loaded/unloaded %(tanθ )
8/15
8/15
7/15
7/15
Brake
Electric
Electric
Electric
Electric
Park
Electric
Electric
Electric
Electric
Motor
Driving motor(S2-60min) AC (kw)
8
8
8
8
Lifting motor,(S3-15%) (kw)
12.5
12.5
15
15
Steering motor AC (kw)
0.7
0.7
0.7
0.7
Battery voltage/capacity (kw)
48/560
48/560
48/600
48/600
Mast information
Double masts
Model
RSEW13030
RSEW13033
RSEW13035
RSEW13037
RSEW13040
RSEW13045
RSEW12530
RSEW12533
RSEW12535
RSEW12537
RSEW12540
RSEW12545
Mast closed height h3(mm)
2321
2471
2571
2671
2821
3071
2321
2471
2571
2671
2821
3071
Mast extended height h4(mm)
3955
4255
4455
4655
4955
5455
3955
4255
4455
4655
4955
5455
Lifting height h1(mm)
3000
3300
3500
3700
4000
4500
3000
3300
3500
3700
4000
4500