Basic information
Type: XR15/20
Load: 1500/2000 kg
Max lifting height: 5500 mm
Fork length: 1150 mm
HS code: 8427102000
Certificate: CE/SGS/ISO9001
Detail features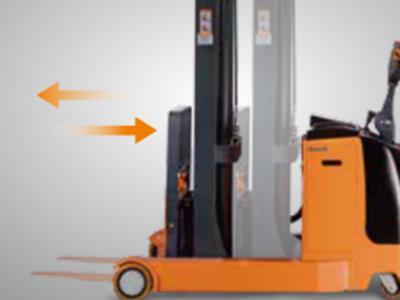 1. Front moving function
The gantry can move forward 580cm which can reduce the turning radius of the truck as well as ensure its running stability.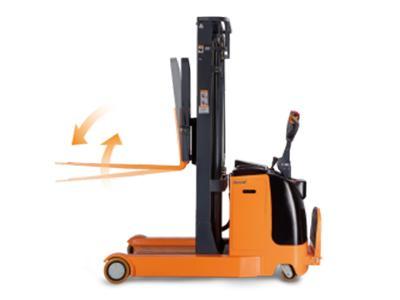 2. The fork can tilt forward and backward for easy loading and unloading of goods and material, thus improving the transporting stability of the reach truck.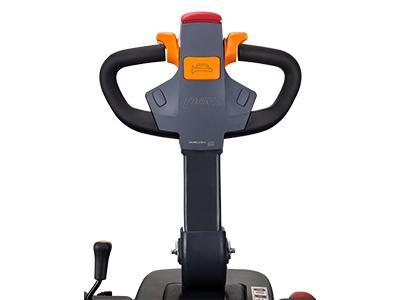 3. This reach truck adopts an original multifunctional handle from Frei, Germany. The operation is comfortable and the functional buttons can realize precise control.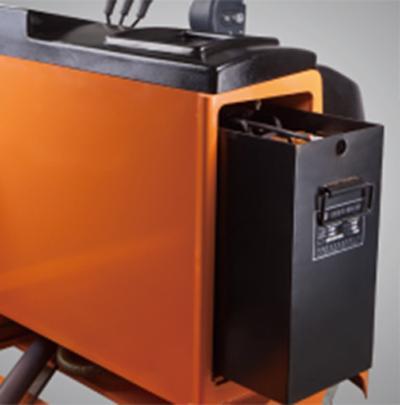 4. Side loading and unloading of storage battery
The side door of the truck and battery cover can be opened, then the battery can be removed from the side door. So the changing and maintenance of the storage battery is convenient. There are optional batteries such as FAMM, GS, HOPPECKE, Trojan.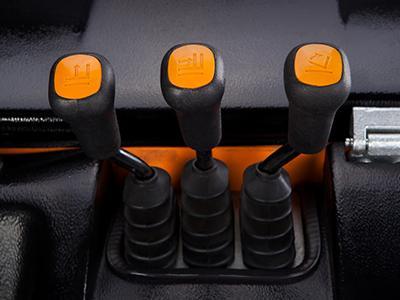 5. Multipath valve stem control
Different valve stem has different functions such as fork lifting/descending, fork tilting forward/backward, gantry moving forward/backward. The distribution of valve stem is compact. The operator can carry out operation with only one finger, realizing precise control.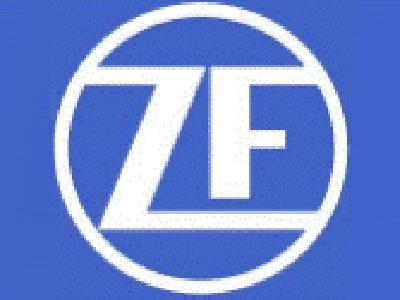 6. The ZF driving unit is imported from Germany. It adopts vertical installation. It also delivers superior performance, stability, and reliability.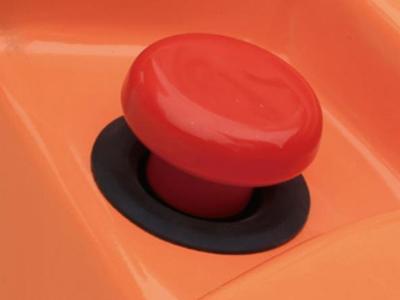 7. Emergency power-off switch: the power can be rapidly cut off in emergencies to ensure safety.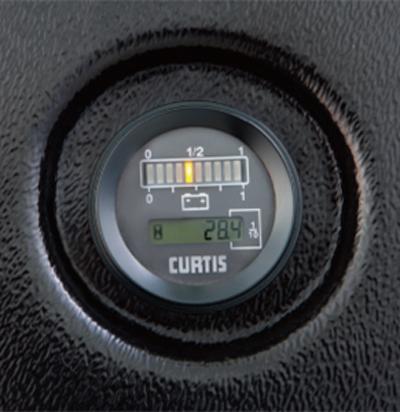 8. Multifunctional meter can display failure code, electric quantity and some other information. The operators can know the running condition of the truck via the meter.
Structural Drawings
Parameters
Features
Product model
XR15
XR20
Driving mode
electric
Operating mode
Standing
Rated load Q (kg)
1500
2000
Load center C (mm)
500
Front gauge X (mm)
446
Wheel base Y (mm)
1440
1590
Weight
Dead load (without battery)(kg)
1700
1716
Full load on axle (front/back) (kg)
1338/2112
1237/2720
No load on axle(front/back)(kg)
1372/578
1300/656
Wheel
Tyre
PU tyre
Driving wheel dimension (mm)
230×75
Bogie wheel dimension (mm)
210×85
Balance wheel dimension (mm)
125×60
Wheel number (front/back) (x=driving wheel)
1x-2/2
Basic dimension
Total height (with min gantry height) h1 (mm)
Attached list 1
Attached list 2
Free lifting height h2 (mm)
Lifting height h3 (mm)
Max height (with max gantry height) h4 (mm)
Total length L1 (mm)
2325
2475
Total width b1 (mm)
1090
Fork dimension s/e/l (mm)
100/35/1070
Outer width of the fork b3 (mm)
200-730
Reach distance L3 (mm)
580
Min ground clearance m (mm)
55
Right angle stacking channel width, pallet 1000x1200 (1000 along the side of the fork) Ast (mm)
2742
2892
Right angle stacking channel width, pallet 800x1200 (1200 along the side of the fork) Ast (mm)
2780
2930
Turning radius Wa (mm)
1725
1874
Performance
Moving speed full load/no load (km/h)
4.8/5.6
Lifting speed full load/no load (mm/s)
90/120
Descending speed full load/no load (mm/s)
125/80
Max gradeability full load/no load (%)
5/8
Motor
Driving motor power (kw)
DC 1.1/AC 1.5
Lifting motor power (kw)
2.2/3.0
Storage battery voltage/capacity (V/Ah)
24/240*, 280
Storage battery weight (kg)
240*, 262
Note: the data with * is the standard configuration parameters. REA means electronic steering EPS.
Gantry configuration
Type
Mast number
Lifting height h3 (mm)
Whole truck height with min fork height h1 (mm)
Free lifting h2 (mm)
Whole truck height with max fork height h4 (mm)
XR15/XR20
Single mast
1600
2030
1000
2540
Dual mast
2500
1780
90
3440
Dual mast
3000
2030
90
3940
Dual mast
3500
2280
90
4440
Dual mast
4000
2590
90
4940
XR15
Triple mast
4500
2060
1500
5340
Triple mast
4800
2160
1600
5640
Triple mast
5000
2230
1660
5840
Triple mast
5500
2400
1820
6340
Index
forklift, lift truck, pallet jack, pallet stacker, pallet lift, narrow aisle forklift