Introduction
The electric scissor lift automatically moves, and features different movement speeds (fast or slow) depending on working condition needs. This lift carries out continuous lifting, descending, and forward, backward and turning movements, under the control of a single operator. Compared to a traditional hydraulic platform, this lift features an enhanced working efficiency, reduced operator numbers, and a reduced labor intensity. The scissor lift is suitable for working at heights in airports, exhibition centers, hotels, factories, bus stations, ports and other locations.
Detail features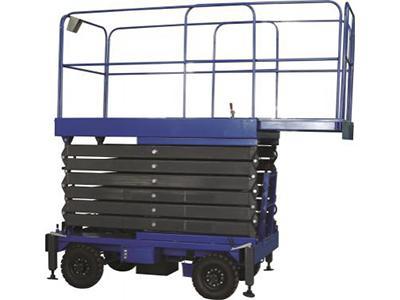 1. The large working platform can carry two people at a time. The maximum height of the one-way extending platform is 11.8 meters. The platform reaches working position quickly, thus increasing the working space.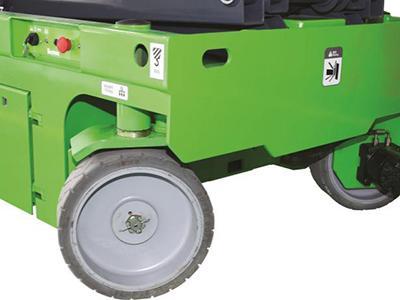 2. Four wheel drive
This lift has an exceptional drive ability, with the gradeability reaching up to 25% with an excellent maneuverability.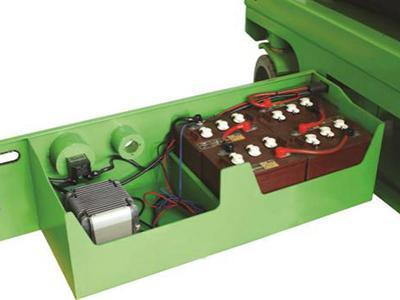 3. Drawer engine mount
By pulling out the drawer, users can clearly view the key parts, including the motor. This makes you can see clearly the key parts such as motor, making daily checking and maintenance easy.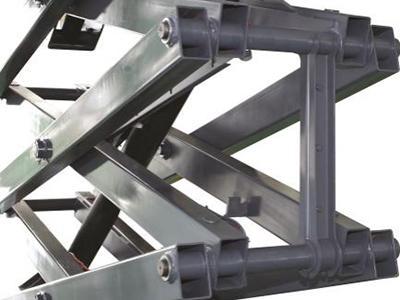 4. Scissor fork
The scissor fork is made of a Q345B profile. The mechanical structure improves the lifting stability of the lift.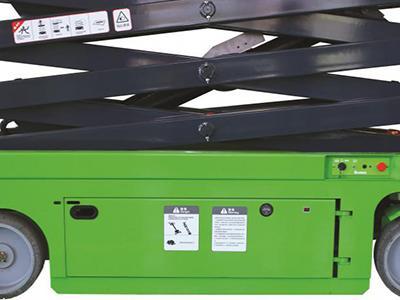 5. Overturning resistance
This aerial work platform features roll over resistance, making it suitable for use in environments where the floor is uneven. This improves the overall passing ability of the scissor lift, and the aerial moving safety of the workers.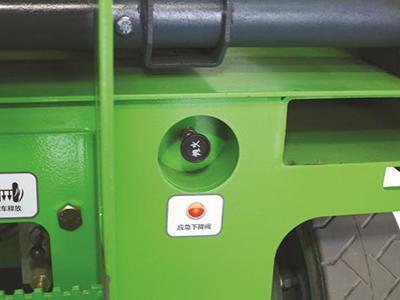 6. Emergency descending system
When the platform does not have a power source, or there is another failure, operators can press the emergency down button to lower the platform.
Parameters
| | | | | | | |
| --- | --- | --- | --- | --- | --- | --- |
| Type | MX580S | MX600SN | MX800SN | MX800S | MX1000S | MX1200S |
| Safe working load (kg) | 230 | 380 | 230 | 450 | 320 | 230 |
| Safe working load of the extending platform (kg) | 113 | 113 | 113 | 113 | 113 | 113 |
| Max workers | 2 | 2 | 2 | 2 | 2 | 2 |
| Max working height (m) | 7.8 | 8.00 | 10.00 | 10.00 | 12.00 | 13.80 |
| Max platform height (m) | 5.8 | 6.00 | 8.00 | 8.00 | 10.00 | 11.80 |
| Total machine length (m) | 1.81 | 2.43 | 2.43 | 2.43 | 2.43 | 2.43 |
| Total machine width (m) | 0.76 | 0.81 | 0.81 | 1.15 | 1.15 | 1.15 |
| Total machine height (with extending barrier)(m) | 2.16 | 2.18 | 2.30 | 2.31 | 2.42 | 2.55 |
| Total machine height (with folded barrier)(m) | 1.82 | 1.85 | 1.87 | 1.76 | 1.91 | 2.03 |
| Platform dimension (L × W) (m) | 1.67 × 0.74 | 2.27 × 0.81 | 2.27 × 0.81 | 2.27 × 1.12 | 2.27 × 1.12 | 2.27 × 1.12 |
| Extending dimension of the platform (m) | 0.90 | 0.90 | 0.90 | 0.90 | 0.90 | 0.90 |
| Min ground clearance (folded) (m) | 0.09 | 0.10 | 0.10 | 0.10 | 0.10 | 0.10 |
| Min ground clearance (lifted) (m) | 0.019 | 0.019 | 0.019 | 0.019 | 0.019 | 0.019 |
| Wheel base (m) | 1.36 | 1.87 | 1.87 | 1.87 | 1.87 | 1.87 |
| Min turning radius (inner wheel)(m) | 0 | 0 | 0 | 0 | 0 | 0 |
| Min turning radius (outer wheel)(m) | 1.64 | 2.10 | 2.10 | 2.20 | 2.20 | 2.20 |
| Lifting/driving motor | 24V/3.3kW | 24V/3.3kW | 24V/3.3kW | 24V/3.3kW | 24V/3.3kW | 24V/4.5kW |
| Moving speed (folding state) (km/h) | 3.0 | 3.0 | 3.0 | 3.0 | 3.0 | 3.0 |
| Moving speed (lifting state)(km/h) | 1 | 1 | 1 | 1 | 1 | 1 |
| Lifting/descending speed (sec) | 18/22 | 35/25 | 40/30 | 40/30 | 60/40 | 70/45 |
| Storage battery | 4 × 6V/210Ah | 4 × 6V/225Ah | 4 × 6V/225Ah | 4 × 6V/225Ah | 4 × 6V/240Ah | 4 × 6V/260Ah |
| Charger | 24V/30A | 24V/30A | 24V/30A | 24V/30A | 24V/30A | 24V/30A |
| Max gradeability | 25% | 25% | 25% | 25% | 25% | 25% |
| Max working angle | 1.5°/3° | 2°/3° | 1.5°/3° | 2°/3° | 2°/3° | 1.5°/3° |
| Tyre | φ305 × 100 | φ380 × 129 | φ380 × 129 | φ380 × 129 | φ380 × 129 | φ380 × 129 |
| Whole machine weight (kg) | 1400 | 1945 | 2100 | 2175 | 2468 | 2830 |
Index
aerial lift, man lift, mobile aerial platform