Basic information
Type: FRC15/20
Load: 1500/2000 kg
Max lifting height: 5500 mm
Fork length: 1070 mm
HS code: 8427109000
Certificate: CE/SGS/ISO9001
Detail features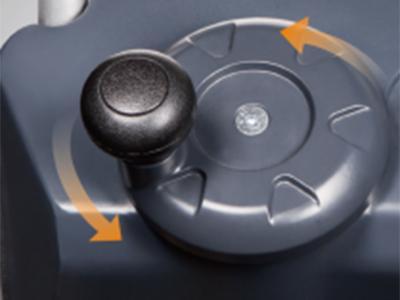 1. Mini steering wheel
The turning of the steering wheel is smooth and comfortable. The operation can be finished with only one hand by the operator. Drivers can carry out free turning even in narrow spaces.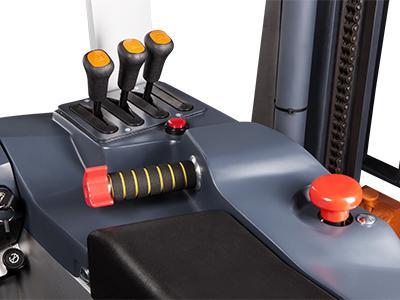 2. Multipath valve stem control
Different valve stems have different functions such as fork lifting/descending, fork tilting forward/backward, gantry moving forward/backward. The distribution of the valve stem is compact. The operator can carry out operation with only one finger, realizing precise control without risk of input error.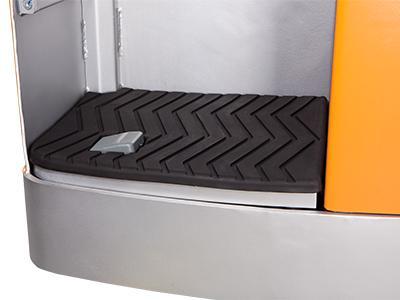 3. Suitable cushion
The soft cushion can effectively relieve fatigue for the operators.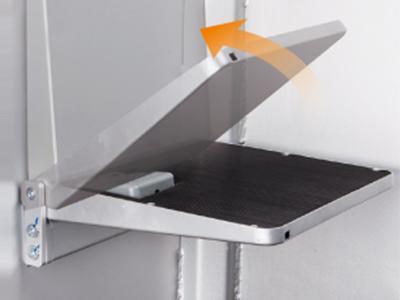 4. Adjustable auxiliary pedal
You can adjust the pedal according to your liking, thus improving comfort of the operators.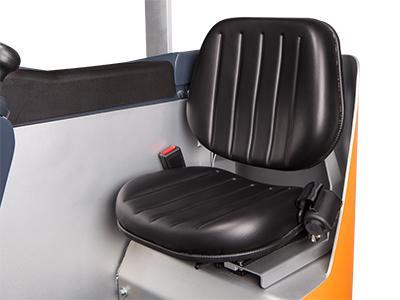 5. Operating mode
You can freely choose either standing or sitting operating mode as soon as it is suitable.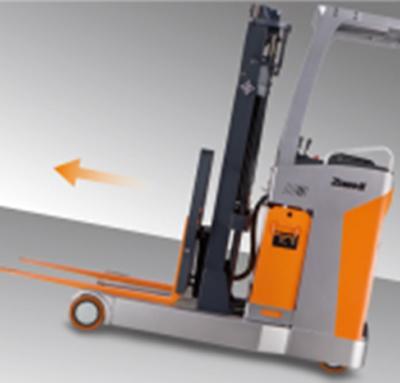 6. Superior gradeability
The powerful motor and 4 wheel truck structure can provide superior stability and gradeability, so that the truck can deliver sufficient gradeability even when it is fully loaded.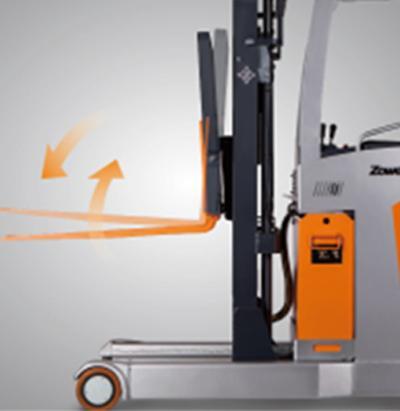 7. The fork can tilt forward and backward for easy loading and unloading of goods and materials, thus improving the transporting stability of the reach truck.
8. The gantry can move forward and backward so that it can reduce turning radius of the truck as well as ensuring running stability. The truck can be applied in various environments.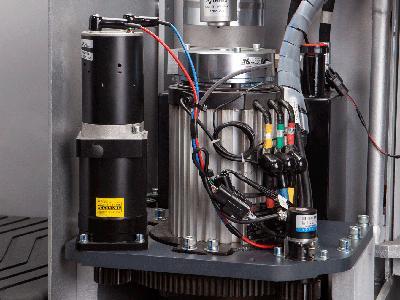 9. EPS electronic steering
Compared with the traditional mechanical steering, EPS electronic steering help the driver with turning by using electronic control device to produce auxiliary power of relative level and direction according to the torque signal and speed signal. So the operation of the driver can be more convenient and precise while movement can be more stable and reliable.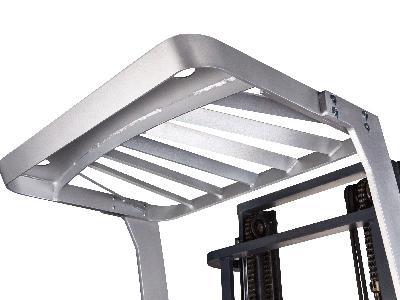 10. The overhead guard with wide field of view can protect the operators from being hurt by falling items.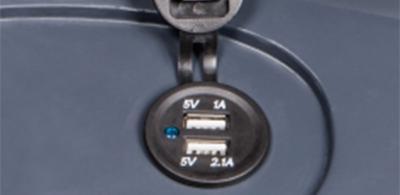 11. USB
The individual USB ports can be used to charge phones and other electronic items.
Structural Drawings
Parameters
Wheel
Tyre
PU tyre
Driving wheel dimension (mm)
230×82
Bogie wheel dimension (mm)
210×85
Balance wheel dimension (mm)
125×60
Wheel number (front/back) (x=driving wheel)
1x-2/2
Front gauge (mm)
550
Track rear (mm)
985
Basic dimension
Total height of the gantry (with min fork height) h1 (mm)
Attached list 1
Attached list 2
Free lifting height h2 (mm)
Lifting height h3 (mm)
Max height (with max height of the fork) h4 (mm)
Overhead guard height h5 (mm)
2162
Ground clearance of the pedals h6 (mm)
Standing type 26, sitting type 570
Total length L1 (mm)
2340
2490
Total truck length L3 (mm)
1830
1980
Distance between the front end of the fork to the front truck L2 (mm)
1270
1420
Total width b1 (mm)
1090
Inner width between guide rails b2 (mm)
772
Fork dimension s/e/l (mm)
100/35/1070
100/40/1070
Fork outer width b3 (mm)
200-730
Reach distance L4 (mm)
580
Min ground clearance m (mm)
55
Right angle stacking channel width, pallet 1000x1200 (1000 along the side of the fork) Ast (mm)
2733
2883
Right angle stacking channel width, pallet 800x1200 (1200 along the side of the fork) Ast (mm)
2770
2920
Turning radius Wa (mm)
1716
1866
Fork tilting angle (front/back) (a/b)
3/5
(°)
Performance
Moving speed full load/no load (km/h)
6.5/7.5
Lifting speed full load/no load (mm/s)
100/135
Descending speed full load/no load (mm/s)
283/128
Max gradeability full load/no load (%)
5/8
Brake mode
Electromagnetic
Motor
Driving motor power (kw)
AC 2.0
Lifting motor power (kw)
3
Storage battery voltage/capacity (V/Ah)
24/280*~360
Storage battery weight (kg)
280
Others
Control method
Field-effect tube control
Whole truck noise dB (A)
< 70
List 1 (FRC15)
| | | | | |
| --- | --- | --- | --- | --- |
| Mast number | Lifting height | Whole truck height with min fork height | Free lifting height | Whole truck height with max fork height |
| | h3 (mm) | h1 (mm) | h2 (mm) | h4 (mm) |
| Single mast | 1600 | 2035 | 1059 | 2541 |
| Dual mast | 2500 | 1780 | 85 | 3441 |
| Dual mast | 3000 | 2030 | 85 | 3941 |
| Dual mast | 3500 | 2280 | 85 | 4441 |
| Dual mast | 4000 | 2580 | 85 | 4941 |
| Triple mast | 4500 | 2066 | 1125 | 5441 |
| Triple mast | 4800 | 2166 | 1225 | 5741 |
| Triple mast | 5000 | 2236 | 1285 | 5941 |
| Triple mast | 5500 | 2416 | 1800 | 6441 |
List 2 (FRC20)
| | | | | |
| --- | --- | --- | --- | --- |
| Mast number | Lifting height | Whole truck height with min fork height | Free lifting height | Whole truck height with max fork height |
| | h3 (mm) | h1 (mm) | h2 (mm) | h4 (mm) |
| Single mast | 1600 | 2078 | 1101 | 2537 |
| Dual mast | 2500 | 1039 | 90 | 3467 |
| Dual mast | 3000 | 2839 | 90 | 3937 |
| Dual mast | 3500 | 2339 | 90 | 4537 |
| Dual mast | 4000 | 2589 | 90 | 4937 |
Index
forklift, lift truck, pallet jack, pallet stacker, pallet lift, narrow aisle forklift