Basic information
Load: 3000/5000 kg
Certificate: CE/SGS/ISO9001
Detail features
1. Regenerative braking
The regenerative braking control system can take the kinetic energy during braking and transform it into electrical energy for storage in the batter. It increases endurance mileage, reduces brake pad wear, and reduces the failure rate of the tugger. Most of all, it reduces the operating cost of the equipment.
2. Electronic control system
The electronic control system is sensitive so that the driver can control the tugger freely. The reliability is high. There are optional controllers supplied by Cutris/ZAPI/PG.
3. Multifunctional handle from FREI, Germany
The multifunctional handle is imported from Germany. The operators can control the moving speed easily by adopting this handle. The handle has an emergency reversing button which can effectively protect the operators from being hurt in accident. The handle can realize braking both in vertical and horizontal position, thus improving tugger safety.
4. Side loading and unloading of storage battery can realize easy maintenance and changing of batteries. There are optional batteries from suppliers including FAMM, GS, HOPPECKE, Trojan.
5. Emergency power-off switch: the power can be rapidly cut off in emergency to ensure safety.
Structural Drawings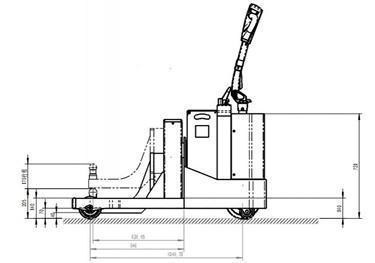 Parameters
Performance
Product type
XTB30
XTB50
Driving mode
electronic
Operating mode
Walking
Lifting load (Kg)
≤1500kg
≤2500kg
Traction load (Kg)
≤3000kg
≤5000kg
Hook tensile force (Kg)
97.6kg
195kg
Front overhang X (mm)
112
Wheel base Y (mm)
999
Whole tugger weight (without storage battery) (Kg)
435
Wheel
Tyre
PU
Driving wheel dimension (mm)
Φ230x75
Bogie wheel dimension (mm)
Φ150x60
Balance wheel dimension (mm)
Φ100x50
Wheel number (x=driving wheel) balance wheel/bogie wheel
1x-2/2
Wheel track (driving wheel) (mm)
400
Wheel track (bogie wheel) (mm)
568
Basic dimension
Total height h1 (mm)
1400
Lifting height h3 (mm)
378
Ground clearance of operating hanlde (max/min) h6 (mm)
1350/800
Total length L1 (mm)
1227
Distance between front end of fork to the tugger front L2 (mm)
565
Total width b1 (mm)
850
Min ground clearance m (mm)
70
Turning radius Wa (mm)
1200
Performance
Moving speed full load/no load (km/h)
5.2/6
4.8/5.6
Lifting speed full load/no load (mm/s)
40/50
Descending speed full load/no load (mm/s)
50/40
Max gradeability full load/no load (%)
8/15
Brake mode
Electromagnetic
Motor
Driving motor power (kw)
1.1
2.2
Lifting motor power (kw)
2.2
Storage battery voltage/capacity (V/Ah)
24/210
Storage battery weight (kg)
195
Other
Control mode
Field effect tube control
Index
electric towing tractor, power tugger, load puller, industrial tugger, electric pusher