Basic information
Type: XEK10/15/20
Load: 1000/1500/2000 kg
Max lifting height: 5500 mm
Fork length: 1070 mm
HS code: 8427102000
Certificate: CE/SGS/ISO9001
Detail features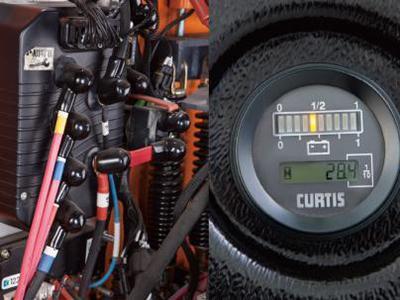 1. Multifunctional meter
Multifunctional meter can display integrated electricity power level, working time and failure code. The operators can know the running condition of the stacker via the meter.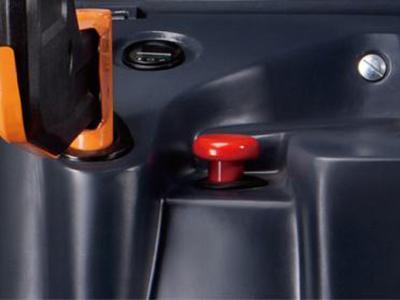 2. Emergency power-off switch
The power can be rapidly cut off in emergency to ensure safety.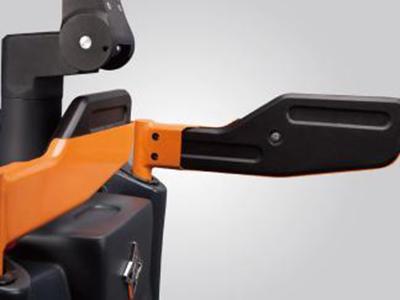 3. Safety protection
The soft PU armrest features superior resistance to compression and impact, thus reducing indirect injuries caused by stacker operation. This provides safety protection as well as comfort for the operators.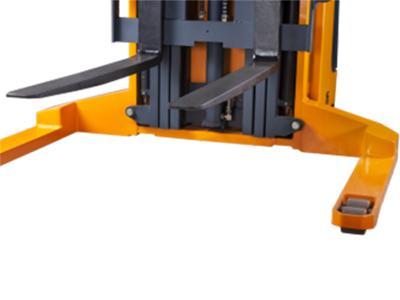 4. Forged fork
The width of the fork can be adjusted within the range of 200-800mm. It is suitable for working conditions with single side pallet or double side pallet.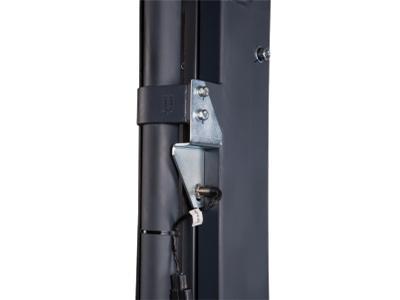 5. Lifting height limit
The lifting height of this reach truck can be up to 3m. It is precisely controlled.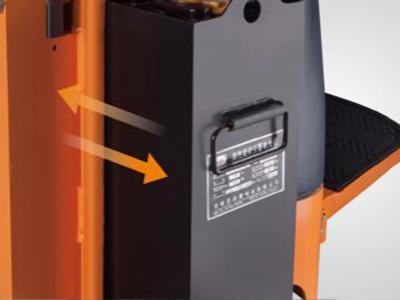 6. Side loading and unloading of storage battery
Side loading and unloading of storage battery can realize easy maintenance and battery swapping.
Structural Drawings
Parameters
Product type
XEK10
XEK15
XEK20
Driving mode
Electric
Electric
Electric
Operating mode
Standing
Standing
Standing
Rated load Q (kg)
1500
1500
2000
Load center C (mm)
600
600
600
Rear overhang X (mm)
403
280
393
Wheel base Y (mm)
1284
1329
1386
Weight
Dead load (without battery)(kg)
936
942
1059
Full load on axle (front/back) (kg)
816/1300
843/1799
966/2293
No load on axle (front/back) (kg)
763/353
767/375
857/402
Wheel
Tyre
PU tyre
PU tyre
PU tyre
Driving wheel dimension (mm)
Φ250×80
Φ250×80
Φ230×82
Bogie wheel dimension (mm)
Φ80×70
Φ80×70
Φ80×70
Balance wheel dimension (mm)
Φ125×50
Φ125×50
Φ125×50
Wheel number (front/back) (x=driving wheel)
1x-2/4
1x-2/4
1x-2/4
Front gauge (mm)
694
694
800
Rear track (mm)
1390
1390
1390
Basic dimension
Total height (min fork height) h1 (mm)
2000
2000
2055
Free lifting height h2 (mm)
/
/
Lifting height h3 (mm)
3000
3000
3000
Max height (max fork height) h4 (mm)
3957
3957
3991
Fork ground clearance (min) h5 (mm)
35
35
40
Handle ground clearance (max/min) h6 (mm)
1396/1136
1396/1136
1390/1130
Total height L1 (mm)
2003
2003
2051
Distance from front end of the fork to front stacker L2 (mm)
934
934
988
Bottom leg inner width b2 (mm)
1270
1270
1270
Total width b1 (mm)
1510
1510
1510
Fork dimension (metal plate) s/e/l (mm)
100/35/1070
100/35/1070
100/40/1070
Outer width of fork b3 (mm)
200-800
200-800
200-800
Min ground clearance m (mm)
30
30
30
Right angle stacking channel width, pallet 800x1200 (1200 along the side of the fork) Ast (mm)
2587
2587
2643
Turning radius Wa (mm)
1626
1626
1682
Performance
Moving speed full load/no load (km/h)
5.2/6
5.2/6
4.6/5.2
Lifting speed full load/no load (mm/s)
90/120
90/120
90/120
Descending speed full load/no load (mm/s)
125/80
125/80
125/80
Max gradeability full load/no load (%)
5/8
5/8
5/8
Braking mode
Electromagnetic
Electromagnetic
Electromagnetic
Motor
Driving motor power (kw)
AC 1.5
AC 1.5
AC 1.5
Lifting motor power (kw)
2.2
2.2
3
Storage battery voltage/capacity (V/Ah)
24/180(180/210)
24/210(210\240\280)
24/210(210\240\280)
Storage battery weight (kg)
200
200\205\295
200\205\295
Other
Control method
Field-effect tube control
Field-effect tube control
Field-effect tube control
Whole stacker noise dB (A)
< 70
< 70
< 70
Gantry configuration of XEK10 type
Stacker type
Gantry configuration
Lifting height
Total height (min)
Total height (max)
Free lifting height
XEK10
Single mast
1600
2010
2482
1128
1800
2210
2682
1328
Dual mast
2500
1750
3457
0
2700
1850
3657
0
3000
2000
3957
0
3300
2150
4257
0
3500
2250
4457
0
3700
2400
4657
0
3800
2450
4757
0
4000
2550
4957
0
Gantry configuration of XEK15 type
Stacker type
Gantry configuration
Lifting height
Total height (min)
Total height (max)
Free lifting height
XEK15
Single mast
1600
2010
2557
1053
1800
2210
2757
1253
Dual mast
2500
1750
3457
0
2700
1850
3657
0
3000
2000
3957
0
3300
2150
4257
0
3500
2250
4457
0
3700
2400
4657
0
3800
2450
4757
0
4000
2550
4957
0
Triple mast
4000
1895
4957
897
4200
1955
5157
957
4500
2055
5457
1057
4800
2155
5757
1157
5000
2215
5957
1217
5200
2275
6157
1277
5300
2315
6257
1317
5500
2385
6457
1417
Gantry configuration of XEK20 type
Stacker type
Gantry configuration
Lifting height
Total height (min)
Total height (max)
Free lifting height
XEK20
Single mast
1600
2090
2591
1099
1800
2290
2791
1299
Dual mast
2500
1805
3491
0
2700
1905
3691
0
3000
2055
3991
0
3300
2205
4291
0
3500
2305
4491
0
3700
2405
4691
0
4000
2555
4991
0
Triple mast
3500
1735
4491
744
4000
1895
4991
904
4200
1955
5191
964
4500
2055
5491
1064
4800
2155
5791
1164
5000
2215
5991
1224
5300
2315
6291
1324
5500
2375
6491
1384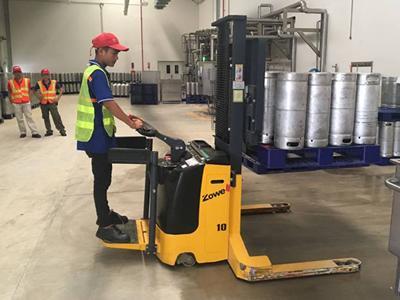 Index
pallet stacker, store stacker, lift truck, forklift, reach truck, pallet jack, straddle lift equipment