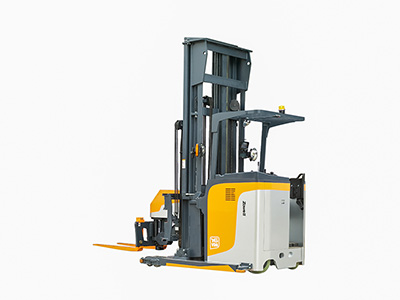 The VNA truck is a narrow aisle forklift. It is equipped with a rotating fork, enabling it to rotate 180 ° to make it an essential solution in tight environments.
Basic information
Max. load Capacity: 1, 600 kg
Max. Lifting Capacity: 9, 000 mm
Operator: Stand-Up
Features
Safety: It is equipped with an electric power assistance steering and wheel display system, dual protection steering system, and real-time monitoring capabilities for the driving wheel position.
Stability: It is equipped with a channel steel mast and reduction drive imported from Germany, ensuring the high strength, high efficiency and stability.
Efficient: When working in the aisle, it uses the fork to rotate up to 180° to pick up and load the cargo on the left and right sides of the aisle. Compared to ordinary forward-moving forklifts, this allows for the number of storage panels in the warehouse to increase by up to 60%.
Energy saving: Equipped with an electric forkhead, more than 50% of energy is saved compared to other forklifts, thus improving the vehicle reliability and ensuring there is no risk of oil leaks.
Ergonomics: Fully enclosed cover design and function to reduce driver fatigue.
Structural Drawings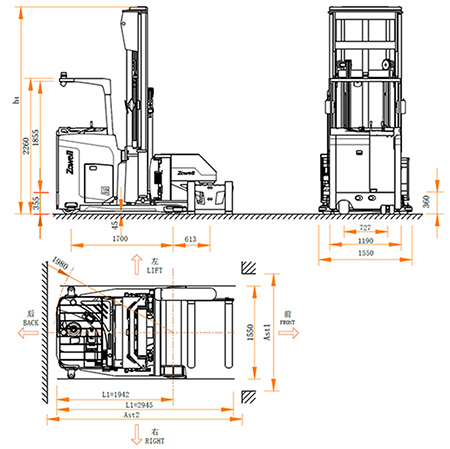 Parameters
Product type
VDA116-30
VDA116S-45
Driving mode
Electric
Electric
Driving type
Standing on
Standing on
Rated load Q(kg)
1600
1600
Load center C(mm)
600
600
Wheelbase y(mm)
1700
1700
Weight
Truck weight(Include battery)(kg)
5200
5450
Battery weight(±5%)(kg)
750
750
Wheel
Tires
PU tyre
PU tyre
Front-load wheels(Diameter × width) (mm)
φ140×127
φ140×127
Rear driving wheel(Diameter × width) (mm)
φ380×165
φ380×165
Tire quantity (Drive/Load wheel/universal wheels) (pcs)
1X/4/2
1X/4/2
Basic dimension
Lifting height (mm)
3000-6000
4500-9000
Fork rotation degree (°)
180
180
Overhead guard height h5(mm)
2260
2260
Platform height for standing (mm)
355
355
Min ground clearance h8(mm)
45
45
Overall length (fork inside position) l1(mm)
2945
2945
Overall width(with guide wheels)b1(mm)
1550
1550
Fork specification l/e/s(mm)
1070/125/50
1070/125/50
Rear chassis width b2(mm)
1190
1190
Fork width b5(mm)
425-750
425-750
Min turning radius(go straight) Wa(mm)
1980
1980
Min main aisle size (mm)
3550
3550
Min aisle width(length×width)
1200×1000 (mm)
1600
1600
Performance
Driving speed loaded/unloaded (km/h)
8/9
8/9
Lifting speed loaded/unloaded (mm/s)
250/300
250/300
Lowering speed Loaded/unloaded (mm/s)
300/300
300/300
Gradeability, Loaded/unloaded %(tanθ )
4
4
Brake
Regenerative
Regenerative
Park
Disc brake
Disc brake
Motor
Driving motor (S2-60min) (kw)
AC 6
AC 6
Lifting motor,(S3-15%) (kw)
AC 12.5
AC 12.5
Steering motor (kw)
DC 0.4
DC 0.4
Battery voltage and capacity (V/Ah)
48/390
48/390
Other
Camera and monitor
Fork camera/Left side camera
Fork camera/Left side camera
Mast information
Full free lift triple masts
Model
VDA116S-45
VDA116S-50
VDA116S-55
VDA116S-60
VDA116S-65
VDA116S-70
VDA116S-75
VDA116S-80
VDA116S-85
V DA116S-90
Mast closed height h3(mm)
2784
2950
3117
3284
3450
3617
3784
3950
4117
4284
Mast extended height h4(mm)
5450
5950
6450
6950
7450
7950
8450
8950
9450
9950
Free lifting height h2(mm)
1834
2000
2167
2334
2500
2667
2834
3000
3167
3334
Lifting height h1(mm)
4500
5000
5500
6000
6500
7000
7500
8000
8500
9000