Basic information
Load: 1000/1200 kg
Max lifting height: 3500 mm
Fork length: 1150 mm
HS code: 8427102000
Certificate: CE/SGS/ISO9001
Detail features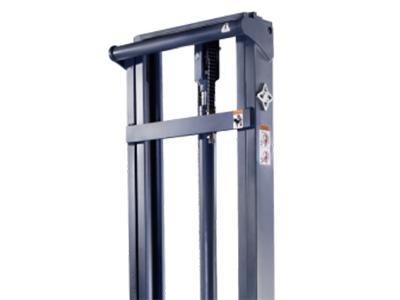 1. Mast which can provide wide field of vision
The hydraulic cylinder is located at the right-middle side of the stacker, thus providing a wider field of vision for the operator.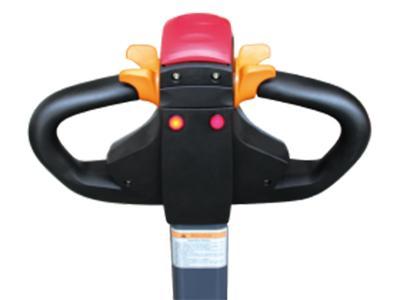 2. Double speed switch
The speed of this electric stacker can be freely switched between normal speed and slow speed. The operators can choose slow speed to realize slow moving of the stacker. This is especially suitable for new operators who are not familiar with the operation of this equipment.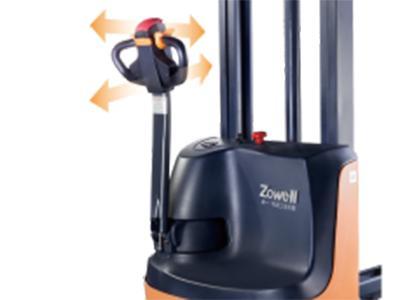 3. Lateral vertical moving
The stacker can move without pulling the handle. By pressing down the straight moving button, the stacker can move slowly. This is suitable for working in narrow aisles and other limited spaces.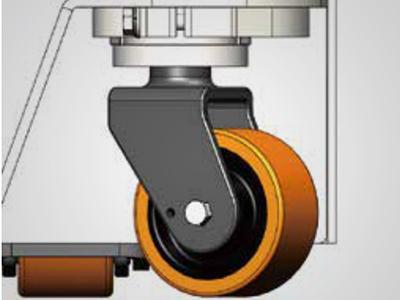 4. Adjustable balance and supporting wheel
The adjustable balance wheel features strong stability, so that the operation can be more stable, safer and more reliable.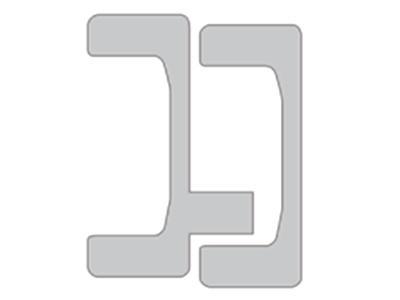 5. Solid channel steel mast
Compared with the bending finished iron metal mast, the channel steel mast is more solid and durable, more stable and safer.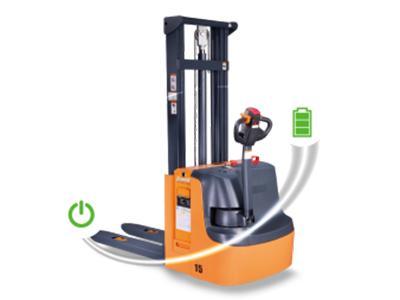 6. Intelligent sleep mode
When the stacker is not in use for long time, the intelligent sleep mode will be automatically initiate to save battery power and cost.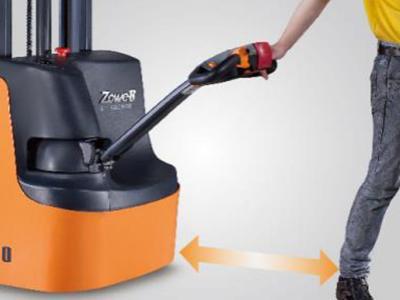 7. Handle of the best one-step length
The long operating handle adopts ergonomic design. The max ground clearance is 1305mm and the min ground clearance is 715mm, so that it quite easy to use. During normal operation, the operators should be one-step away from the stacker, so that their feet will not get caught by the wheel, thus ensuring safety of the operators.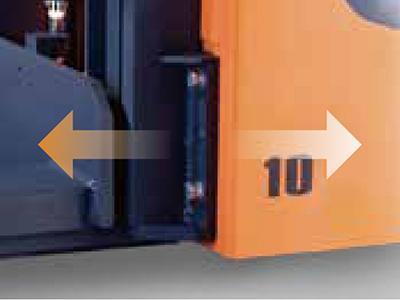 8. Split type mast
The fabricated connection of the mast and stacker frame can realize easy installation and changing of the mast as necessary. The working device and moving device are easily disassembled and changed.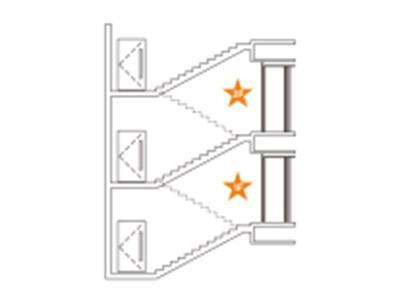 9. Beautiful and tiny appearance
The base design: the front base is 600mm in length so that it is flexible and suitable for working in narrow channels. It is the ideal choice for trans-floor working.
Structural Drawings
Parameters
Product type
XEA10/12
Driving mode
Electric
Operating mode
Walking
Rated load Q (kg)
1000/1200
Load center C (mm)
600
Wheel base Y (mm)
1202
Weight
Dead load (without battery)(kg)
494
Load on axle (load side/drive side)(kg)
952/639
No load on axle (load side/drive side)(kg)
144/404
Wheel
Tyre
PU
Driving wheel dimension (mm)
Φ210 × 70
Bogie wheel dimension (mm)
Φ80 × 70
Balance wheel dimension (mm)
Φ125 × 60
Wheel number (front/back) (x=driving wheel)
1x-1/4
Front gauge (mm)
481
Rear track (mm)
400
Basic dimension
Total height (min fork height) h1 (mm)
2000
Free lifting height h2 (mm)
/
Lifting height h3 (mm)
3000
Max height (max fork height) h4 (mm)
3457
Fork ground clearance (min) h5 (mm)
86
Handle ground clearance (max/min) h6 (mm)
1305/715
Total height L1 (mm)
1756.2
Distance from front end of the fork to front stacker L2 (mm)
606.2
Total width b1 (mm)
800
Fork dimension s/e/l (mm)
160/61/1150
Outer width of fork b3 (mm)
560
Min ground clearance m (mm)
27
Right angle stacking channel width, pallet 1000x1200 (1200 along the side of the fork) Ast (mm)
2244
Turning radius Wa (mm)
1400
Performance
Traction speed full load/no load (km/h)
4/4.5
Lifting speed full load/no load (mm/s)
120/200
Descending speed full load/no load (mm/s)
80/90
Max gradeability full load/no load (%)
5/8
Braking mode
Electromagnetic
Motor
Driving motor power (kw)
0.65
Lifting motor power (kw)
2.2
Storage battery voltage/capacity (V/Ah)
2 × 12/80
Storage battery weight (kg)
27 × 2
Other
Control method
Field-effect tube control
Whole stacker noise dB (A)
< 70
Lifting height selection of XEA 1,000-1,200kg electric lift stacker
Mast type
Lifting height
Total height with min fork height
Free lifting height
Total height with max fork height
h3 (mm)
h1 (mm)
h2 (mm)
h4 (mm)
Dual mast
2500
1750
0
2957
Dual mast
2700
1850
0
3157
Dual mast
3000
2000
0
3457
Dual mast
3300
2150
0
3757
Index
pallet stacker, store stacker, lift truck, forklift, reach truck, pallet jack, straddle lift equipment